Steel Doors (Insulated & Non-Insulated)

Steel Garage Doors are one of the most popular replacement garage doors –they come at an affordable price, exceptional performance and are almost completely maintenance free (other than hardware). Steel Garage Doors are available from Deol Garage doors in so many different designs of Door Panels, Decorative Windows and accessories. These doors have a truly striking look that stands out to as a compliment to your home.
Above all, at Deol Garage Doors our highly trained technicians will make sure that the installations are done right the first time around. Our technicians will always provide friendly, honest and reliable answers to any of your questions when they are working on site. Our Company policy is that all our customers are our extended family – It is your satisfaction and trusts that is helping our company reach new heights every day.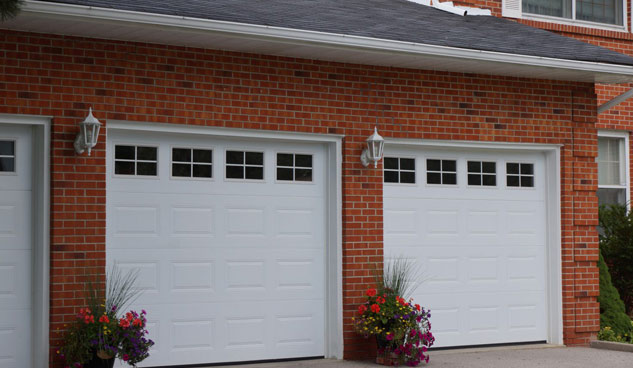 Choose a design
From Deol Garage Doors you can choose a 4-Panel Colonial or 2-Panel Ranch style steel doors whichever Suits your personal preference to provide an imaginary look to your home
Colonial
Ranch
Choose a window style
Deol Garage doors will help you choose a decorative windows style from our huge collection
Decor ™
Majestic Brass
Reflections Brass
Majestic Leaded
Reflections Leaded
Cascade I
Cascade II
Stockton I
Stockton II
Waterton I
Waterton II
Cathedral I
Cathedral II
Sherwood I
Sherwood II
Williamsburg I
Williamsburg II
Clear I
Williamsburg II
Please Note: Not all window options are available with every panel style. Check with your Wayne-Dalton Dealer for details.
Choose a color
Our maintenance-free factory finishes look great on any home. Many people, however, choose to custom-paint their doors to match their home's trim.
Please Note: Actual colors may vary from images on this web site, or in our product brochures.
Choose decorative hardware and accents
Each collection consists of four 16″ x 2″ hinge straps and two 9″ pull handles. Every piece is made from black powder coated steel with a hand-hammered look. Additional accent pieces are available to match or complement each collection.
The Euro Collection
Inspired by the detailing of Old World estates, the Wayne-Dalton Euro Collections incorporate classic design icons.
Fleur-de-Lis
Barcelona
Spear(Individuals available in 16″ 24″ 32″)
The American Collection
Imagery of the American southwest can be found in the graphic interpretations of native graphics.
Door Accents
Knockers, corner brackets and clavos give a respectful nod to the decorative nails and studs craftsmen used to accent their entry doors for hundreds of years.
Corner & Angle Brackets
Fleur-de-Lis
Barcelona
Spear
Aspen
Conifer
Arrow
Lift Handles
Fleur-de-Lis
Barcelona
Spear
Aspen
Conifer
Arrow
Other special features
Polyurethane foamed-in-place insulation
Wayne-Dalton's polyurethane foamed-in-place insulation provides excellent insulating ability to control energy costs, and added strength.

Bottom weather seal
In addition to insulation, our doors have a bottom weather seal. The bottom weather seal blocks drafts and helps save energy. It remains flexible even in extreme cold to keep the bad weather outside.
* Insulation values have been calculated in compliance with DASMA TDS-163 industry standards.
Lifetime Limited Warranty
Wayne-Dalton warrants the 8300 and 8500 insulated garage door for as long as you own the door from the time of installation against structural failure (rendering the door inoperable) of the door sections due to separation/ degradation of foam insulation. Wayne-Dalton warrants the steel skin of the 8300 and 8500 insulated garage door for as long as you own the door against deterioration such as cracking or splitting due to rust-through. Other items apply.